Absolutely brilliant. Siama was kind, patient and put me at ease.

Matthew Steele

September 12, 2023

Since having Saima as a driving instructor she has helped me so much, not only with my ability but confidence on the road, she isn't just a lovely person but... read more a brilliant instructor and I miss seeing her each week for my lessons since passing my test.

Keira

August 13, 2023

So I have been friends with Natalie for many years and when covid hit I took time to reflect on my future. Not knowing what I could do I decided... read more to try my hand at instructing! I contacted Natalie and she was thrilled to take me on. She took me out, we had a hilarious time training. It didn't feel like work it felt like a laugh with my mate. She's very professional but in a kind a fun way! I was thrilled to pass my parts 1,2 and 3 all within the year. I then started to work for Natalie who has always been on hand 24/7. There were tears and frustration many times in the beginning and Natalie stops what she's doing and comes to your aid with her help and understanding! I've now been fully qualified and working alongside her for almost 3 years and loving my job! With over 40 first time passes in that time. I could not have done it without her constant help. The franchise is great and I have some amazing friends and colleagues now that also trained with Natalie that we all get together for social events & work meet catch ups often where Nat will ask if we have any concerns and make sure they are delt with immediately. Then we can all chill & have a laugh!! Thanks Natalie, for the first time in over 30 years I have a job I love. It took me until my 40's to get it but I'll never look back!

Rebecca

July 13, 2023

We could not recommend Becka enough. She is an amazing instructor that helped my daughter pass her driving test first time. She was helpful, caring and flexible to accommodate our... read more very tight schedule. We would not hesitate to use her services again for our younger daughter.

M Sulaj

July 13, 2023

I learnt to drive with Saima from always pass. She was extremely patient and helpful. She also allowed me to make mistakes and learn from them in a stress... read more free way.

Amelia Barnham

July 13, 2023

Just passed my test first time this morning, I had the lovely Saima, I couldn't have asked for a better instructor. She calmed all my nerves had a lovely car... read more to learn in I would recommend to anybody looking for a driving instructor!!🤗

Lena Hennessey

July 13, 2023
Always Pass driving school has been providing driving lessons in Reading for over 16 years, supplying highly qualified driving instructors to thousands of happy pupils. 
We are a very friendly, and approachable group of driving instructors. Whether you want driving lessons to pass a driving test, or learn other driving skills such as motorway training, we will be able to help you.  Our driving instructors can also assist you to pass your driving theory test.
Each student will receive theory training if requested, a progress book for keep track on where you are in your training plan. We don't charge extra for the car on test day.
Theory Test Pro
We use Theory Test Pro. Learners using Theory Test Pro are twice as likely to pass than the national average. Register with us today to start using it for free, and get on the road quicker!
If you are interested in advanced driving qualifications, we have the experience to train you to a great standard. Also with pass plus we can help bring your car insurance down. We can also help you to get your licence back if it has been revoked.
Areas that we cover for driving lessons are: Reading, Woodley, Charvil, Twyford, East Reading, Lower Earley, Earley, Henley, Wokingham, Bracknell, and Caversham
Areas that we cover for Driving tests are: Reading, Farnborough, Slough & Chertsey.
Work With Us
If you're a driving instructor, we're hiring! Even if you're already working for another company if you're interested in working with a small independent company please get in touch.
By completing this for you are agreeing that we can only use your information to get in touch with you.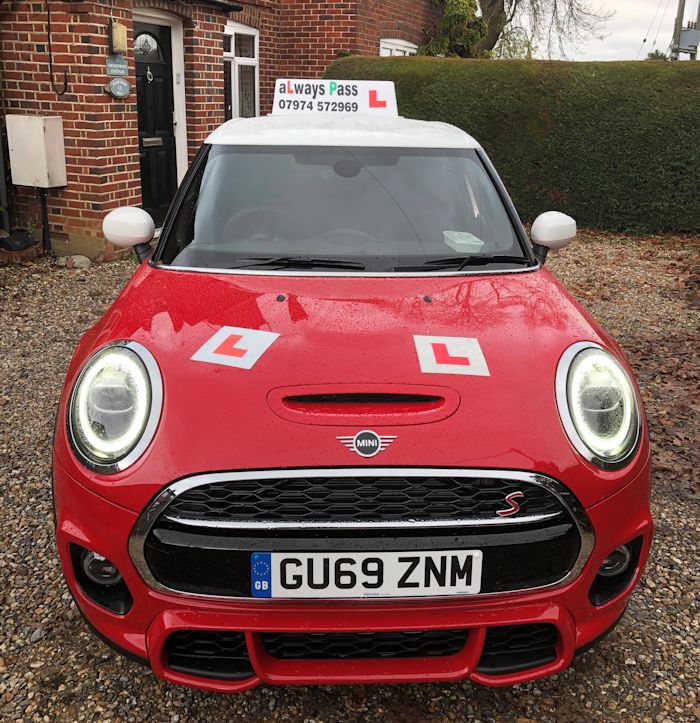 "Fantastic! Natalie is incredibly knowledgable about teaching people to drive! No faffing about, gave me the confidence and belief I could do it from Day 1. Genuinely a nice trusting lady who helped me pass within 3 months of starting to drive with her! I look back and thank her for everything she did for me."
Bradley Austin
"Sharon Harper is the best driving instructor and I could not recommend her enough to prospective learners. After previously failing my test twice with 2 different driving schools, Sharon rebuilt my confidence and enjoyment in driving and I have recently passed my test thanks to her! Sharon is calm, knowledgable and extremely easy to get on with! Thank you Sharon!"
Joanna Shimell
"Ken is an amazing and very patient instructor. He was great at making me feel comfortable and confident. I will miss my lessons now I've passed 1st time with 3 minors."
Amanda Dodsworth
"I (Rosie, daughter of Nick) had Paul M as my instructor. He passed me first time, always kept my nerves down, made sure I didn't panic and was always positive – just what I needed! Would recommend to absolutely everyone. Thanks Paul xx"
Nick Kemp