Pass Plus and Motorway Lessons
Pass Plus
This is an optional course introduced by DVSA, and is considered the best way to give additional driving experience to a qualified learner. It is taught by an ADI (Approved Driving Instructor) that has been Pass Plus registered. Pass Plus is a practical training course that takes at least six hours and is for drivers to improve their skills and drive more safely. It can be taken at any time, although it should be most useful to new drivers in the year after passing their test.
You'll need a Pass Plus registered approved driving instructor (ADI) to teach you, all of the Instructors at Always Pass driving school can do this for you. The advantages of Pass Plus is to gain more knowledge within your driving and it will help bring your car insurance down.
Motorway Lessons
The Benefits of Motorway Driving Lessons
Driving on the motorway can be a daunting prospect, particularly those who have recently passed their driving test, or those who haven't driven on the motorway for a long time. It doesn't have to be this way though. If you feel nervous about venturing onto a three-lane highway then you should consider some motorway driving lessons. Whatever your driving experience, having some extra lessons specifically designed for safe and correct motorway driving is a valuable investment.
Driving on a motorway
Naturally, motorway driving is different to driving on a normal one or two lane road. You need to keep you wits about you at all times and be able to anticipate further ahead than with normal driving.
One of the most obvious factors to motorway driving is the increased driving speed, which can make inexperienced or nervous drivers feel uncomfortable, and mean they are not in full control of the vehicle. This can be an incredibly dangerous situation for the driver and other cars on the roads too. Travelling at higher speeds makes every movement more extreme, even the smallest touch of the wheel will make a noticeable movement. It is important to learn how to control the steering and speed of a vehicle effectively, to ensure you can drive with confidence and safety in these conditions. Motorway driving lessons are specifically designed to teach drivers how to adapt their driving skills to the motorway in a safe and calm environment. Another key element is learning the right protocol for joining and exiting a motorway.
How motorway driving lessons can help
Additional motorway driving lessons will teach you how to join and exit correctly and safely, which is usually via slip roads that merge into the far left-hand lane. Your instructor will show you how to accurately gauge the right speed to join or exit via a slip road according to the current traffic conditions. If there is fast flowing traffic, you will need to enter at a greater speed, whereas if there is heavy traffic moving slower, you will need to take a slower approach.
Your instructor would also make sure you are fully aware of the rules of overtaking. In the UK, you always overtake into the right-hand lane and return to the left-hand lane once you have completed your overtake, undertaking into the left-hand lane is illegal and incredibly dangerous. As always, be sure to always check your mirrors and blind spots before you make any manoeuvres on the motorway. With motorway lessons you can learn this rule under safe instruction.
Motorway lessons will also give you training on how to look further ahead on the road. This helps to anticipate potential changes in driving conditions, as well as adapting your speed and driving style to bad weather. With everything you have learnt on your motorway driving lessons you will be a safer and more confident driver.
Contact Us
If you'd like driving lessons, or have any questions about what we have to offer please get in touch, you can complete the form or give us a call on 0118 9111055 or 07974 572969 .
By completing this form you are agreeing for us to only use your details to get in touch with you.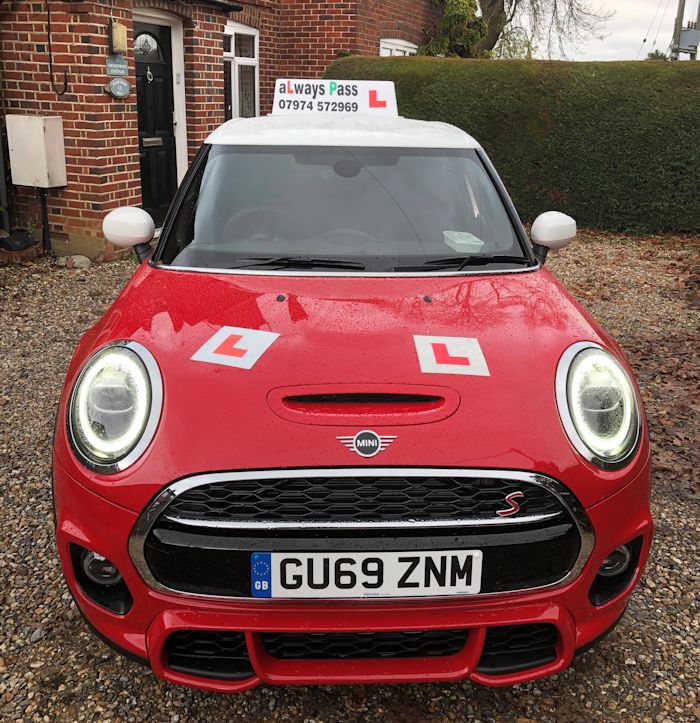 "Fantastic! Natalie is incredibly knowledgable about teaching people to drive! No faffing about, gave me the confidence and belief I could do it from Day 1. Genuinely a nice trusting lady who helped me pass within 3 months of starting to drive with her! I look back and thank her for everything she did for me."
Bradley Austin
"Ken is an amazing and very patient instructor. He was great at making me feel comfortable and confident. I will miss my lessons now I've passed 1st time with 3 minors."
Amanda Dodsworth
"Sharon Harper is the best driving instructor and I could not recommend her enough to prospective learners. After previously failing my test twice with 2 different driving schools, Sharon rebuilt my confidence and enjoyment in driving and I have recently passed my test thanks to her! Sharon is calm, knowledgable and extremely easy to get on with! Thank you Sharon!"
Joanna Shimell