New automatic driving instructor available
Is learning automatic the way forward for you? Will it help you pass? What is the difference?
Whether you learn automatic or manual, it does not really matter. Obviously the only difference is not having to change gear. So if you find it hard to multi task, or English is not your first language and you are finding it hard to understand, automatic driving lessons will help you. You still need to do everything, like planning your driving by thinking ahead, tackling roundabouts, reversing, mirror checks and more, including passing your theory and practical test.
Driving Lessons with automatic cars is like clutch free motoring – no problem! Automatics, by making the physical job of driving much easier, give you more time to concentrate on what's happening on the road.
Make your life easier
Automatic cars have drive, park, reverse and neutral. Just select the right one and you are off. Make your life easier. Get going with lessons, learning how to drive the way you want to.
Taking lessons and your driving test is no different no matter which type of gear box you use. If you have struggled with gears in the past, or are worried about multi-tasking during learning to drive then automatic lessons are the answer. Get yourself some lessons with Always Pass, let's get you on the road.
Would a quiet time of the day be more preferable for you to learn to drive? Have a weekday lesson, when it is not so busy on the roads. Learn at your pace, and build your confidence.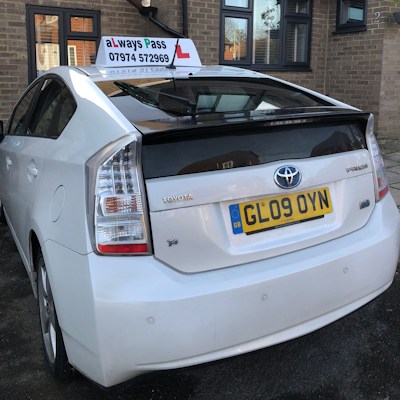 Here at Always Pass Driving School, we can help you to pass your theory and practical driving tests. Learn to drive with one of our great male or female driving instructors. We offer automatic driving lessons in Lower Earley, Woodley, Henley and Twyford areas of Reading.
Get in touch
If you'd like more information please get in touch.